On the job, do you know which gas detectors can best protect your team? While area gas monitors can be used across numerous industries, determining the right equipment to keep your team safe and get the job done can be difficult.
What if it can't detect the gas you need to monitor? What if your equipment is bulky and difficult to move? What if you can't make informed decisions that impact productivity and mitigate risk? With so many options on the market, it can be overwhelming to figure out if an area gas detector will meet your needs.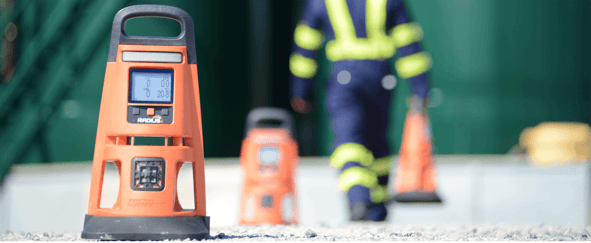 The Radius BZ1 Area Monitor is a rugged, portable area gas monitor that can be deployed in seconds to monitor up to seven gases simultaneously. With local and remote monitoring options, everyone from the teams working nearby to safety managers off site will know there's a hazard and how to respond. Now, Industrial Scientific has added support for Hydrogen Chloride (HCl), Chlorine Dioxide (ClO2), and infrared (IR) sensors for hydrocarbon (propane) and Methane (CH4).
With these new sensor offerings, the Radius BZ1 can be used more extensively to detect hazardous gases in applications – including fence line and perimeter monitoring, hot work, confined space entry, emergency response, and more – across industries spanning paper and pulp, water and waster water, and food production, among others. Find out if the Radius BZ1's new sensor offerings are right for your facility below or by talking to an expert.
Where to Use Area Monitors to Detect Hydrogen Chloride (HCl)
When using the Radius BZ1 to detect HCl gas exposures within an area, its uses seem nearly limitless. It can be used across applications spanning perimeter monitoring, general safety, emergency response, hot work, confined space entry, and fixed gas replacements/extensions across multiple industries.
Depending on your unique process and industry, the Radius BZ1 can be placed throughout your facility to detect both HCl and other gases while giving workers insight into their surroundings by locally sharing alarms and gas readings between area monitors and Ventis® Pro5 Personal Gas Monitors. By sharing readings and alarms in real-time, you can improve site visibility – particularly in confined space or emergency response situations.
This is best highlighted in industries like chemical with gas wells and HCL production; food and beverage processing for dairy items, bakery goods, corn syrup, and select sauces; hazmat transportation and storage; the manufacturing of vinyl and cotton products, semiconductors, steel, and disinfectants; and PH regulation in pharmaceutical manufacturing processes.
When to Monitor for Chlorine Dioxide (ClO2)
ClO2 gas detection is found in fewer industries than HCl but is still prevalent across multiple applications when combined with area monitoring equipment like the Radius BZ1 – including perimeter monitoring, general safety, emergency response, hot work, confined space entry, and fixed gas replacements/extensions.
In the paper and pulp industry, area gas monitors are a flexible solution that can be placed in temporary or long-term configurations to monitor specific hazards across chlorine production, storage, and bleaching.
In water and wastewater industries, meanwhile, ClO2 is used for a variety of antimicrobial uses (including the disinfection of drinking water). As a result, ClO2 gas is extremely prevalent, making exposure risks high, as it's usually produced on-site from sodium chlorate or sodium chlorite. With the Radius BZ1 area monitor, safety personnel can continuously monitor multiple areas for gas leaks and immediately alert teams of hazards from a safe distance.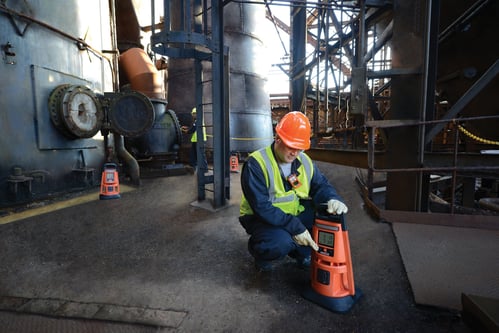 When to Use a Hydrocarbon Infrared (HC IR) or Methane Infrared (CH4 IR) Sensors
Every facility is unique and standard catalytic bead LEL sensors might not be right for your site. So, when should you use an IR sensor?
IR sensors should be used when there is a concern about sensor poisons as well as for low oxygen environments where catalytic bead sensors are unable to operate effectively. This is because IR sensors aren't impacted by the same poisons and don't require a certain level of O2 in the atmosphere to accurately detect LEL gas levels.
Meanwhile, when it comes to determining which IR sensor to use, you only need to know if your facility is trying to detect the combustible gas methane or not. In most instances, CH4 IR sensor is best used for solely for natural gas or methane detection, although it may encounter other known combustible gases in the atmosphere. If the potential combustible gas is unknown, however, then it's best to use a HC IR sensor because it can detect a wide range of combustible gases and accepts low response to methane, ethylene, and dichloroethane.
All in all, when you rely on gas detection equipment like area monitors to keep your team safe, you need to be certain that you're using the right sensor for the job. Hazards vary from industry to industry, but your team's safety should remain consistent. Because the latest sensor offerings are compatible with the Radius BZ1, your team can continue to detect hazards 24/7 and focus on what's important while knowing that their area monitors are ready for whatever comes their way.
Get in touch with one of our gas detection experts at Industrial Scientific to learn more.