Save time on gas detection administration work by managing all equipment from one dashboard.
Better manage worker safety by tracking critical gas detection data.
Accurately target improvements by giving the right data to the right people at the right time.
Reduce risk to your people and site by identifying risky behaviors.
Easily Manage Hazards, People, and Equipment
iNet Control gas detection management software provides unparalleled visibility into your gas detection program. The software helps you easily manage hazards, people, and equipment from anywhere, all with one simple dashboard.
Comprehensive Gas Detection Management Software
Improve compliance with bump test reports, calibration trends, and print certificates for easy auditing.
Know exactly when alarms occur, how long they last, and create reports on highest alarm counts by gas and user.
Gain insights into equipment failures so you can stay on top of repairs and fleet maintenance.
Easy User and Site Tracking
Understand who was exposed to what gases and where with iAssign Technology, a quick and easy way to gain more insight into your gas detection program.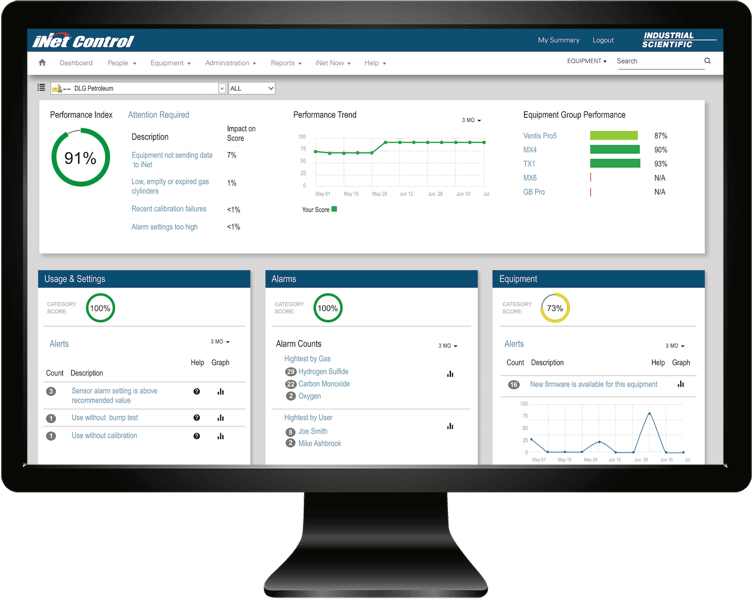 Get insights into how your overall gas detection program is performing with the Performance Index.
Know when gas detectors are being used without a bump test and graph usage trends.
See what gases cause the most alarms and where you may have problem areas on site.
See which pieces of equipment need firmware updates or have not been docked recently.
iNet® Control Frequently Asked Questions
How many users can access iNet Control software?
There is no limit or added cost to the number iNet Control users. Various permission levels allow you to give specific access to specific people.