As a safety professional, something to keep at the top of your mind is how you can streamline your worksite while keeping your workers and community safe – and what better way to do that than with your personal gas monitoring and safety devices and the data they already collect?
There are several solutions that allow your team to communicate, even while they work individually, that can also become essential tools for emergency response and mitigating future risks.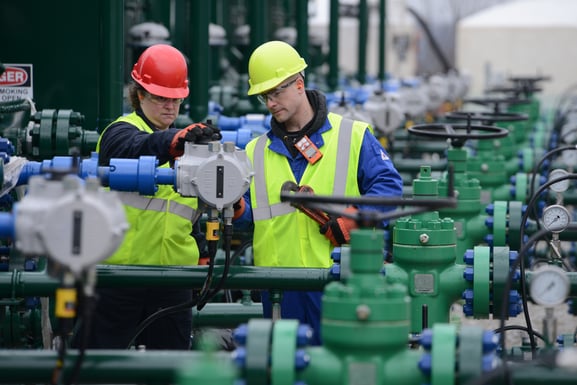 The Importance of Personal Monitoring
Personal gas detectors are a crucial part of workplace safety when gas hazards are present. When equipped with personal gas monitors, workers can focus on the task at hand without worrying about invisible hazards – no matter where the job takes them.
There are many features you must consider when choosing a personal gas monitor – such as peer alarm sharing and live monitoring, which are two abilities that drastically improve visibility into the hazards you may face. With workers constantly on the move, you need a way to see what they're all encountering in one view and no matter where you are...
Common Challenges
On any given worksite, you can find numerous potential hazard sources throughout the facility. The facility in the video below is concerned about potential acute and chronic gas exposures for its employees. The sources are scattered throughout the site.
Because the team uses so many monitors, it's impossible for them to rely on sifting through thousands of data logs across their devices to gain insights on hazards or pinpoint the source of exposures. Their time is too valuable to waste when getting to the root of a problem.
In the case of an incident, safety managers and personnel need quick and easy access to who, what, when, where, and why so that they can problem solve.
Connected Monitors for Instant Response
Luckily, this facility has invested in connected safety solutions from Industrial Scientific. Each worker wears a Ventis Pro5 multi-gas monitor with a personalized iAssign tag which labels the device's readings with their name, making it easy to track their status and location without manual check-ins that interrupt workflow. Workers tag their monitor before each shift, which also simplifies equipment management.
As workers move through the facility, their Ventis Pro gas monitor will automatically connect to strategically positioned RGX Gateways using LENS Wireless technology, which when combined with an iAssign beacon, will update safety personnel to the specific location of an individual.
When an actual exposure does occur, the equipment immediately relays who, what, when, where, and why to the responsible people through text and email alerts using iNet Now software.
With instant alerts that answer the most important questions at a glance, including the name of the exposed worker, what hazard activated the alarm, and the time and location of the triggering hazard, they can take immediate and appropriate action to stop the leak and follow up on the people who were exposed to the hazard.
Reduce Risks with Clarity into Hazards
Now when exposures occur, this facility can not only take immediate action in response, but also apply the information from personal detectors to prevent similar occurrences.
When the workers dock their monitors at the end of the day, the data they collected uploads automatically to iNet Control – management software that simplifies data to show insights into risky behaviors, equipment performance, and hazard trends.
Each week, safety personnel can view updated heat maps of exposure hot spots throughout site to continue to engineer out the hazards for more effective risk controls. With connected personal gas monitors and a network of wireless gateways, this site now has a scalable way to make continuous safety improvements
The work of improving your site's safety never stops – neither should your gas detectors or the valuable insights they collect.