If you're reading this, you probably have a subscription to some type of product or service. Whether you get groceries shipped to your house each week, binge watch tv shows on Netflix, or discover new music through a streaming app, you've used a subscription service to get what you need—quickly and conveniently.
While these services are common for consumer goods, they're more of an insider secret in the safety industry. However, the safety industry is the very place where these services can make the largest impact.
From basic PPE like hardhats and gloves to more advanced devices like gas detectors, everything has a life span and your company is responsible for monitoring it. Unfortunately, it's easy to assume that these items will continue to perform as expected and protect your workers day in and day out without giving them much thought.
Luckily, subscription services provide a simple solution. Subscription services reduce the opportunity for human error by automating common orders or processes for you. For example, if a worker calibrates a gas detector but doesn't tell anyone that the gas cylinder is low, the next worker might not be able to calibrate their monitor. This is a small error that can have big consequences. A subscription to automatically replace calibration gas when cylinders are running low could easily solve this problem – without consuming your time to monitor the gas levels or releasing POs.
Read on to learn five reasons why you should consider subscription services for your safety needs:
1. Your needs are fulfilled automatically
Subscription services make it fast and easy to restock common items. Depending on the items and program in question, you can have replacements shipped to you on a pre-set schedule or have replacements shipped to you based on your stock level. For example, calibration gas replenishment programs use docking stations to monitor how much calibration gas you use, then automatically reorder when your supply is low. If you use less gas for a few months, you won't have to worry about extra cylinders showing up before you need them.
2. You can cut your inventory of consumable items
Some teams try to avoid downtime by having spare parts on hand. While this is a good practice for some items, it can be dangerous for others. Purchasing extra sensors or calibration gas for gas detectors before you need them means you're more likely to end up using expired items and putting your workers at risk. Instead, a subscription can deliver fresh items right when you need them.
3. You get the latest and greatest technology
Many subscription programs allow you to trade in old or unusable equipment to ensure that you're using fully functional devices with the latest features. Subscription-based maintenance services can take this a step further by detecting when a device like a gas detector is past its prime and automatically replacing it with a monitor that's working. Many subscription programs also offer discounted upgrades as a perk.
4. It's easier than buying up front
Many subscription services spread your investment over the term of the subscription, allowing you to avoid the complexities of an upfront capital expense for new equipment. This also gives you the flexibility to adjust your program over time as your needs change.
5. You get access to experts
When you subscribe to recurring programs, the provider can gain some important insights into how you're using your devices. Are you going through way more calibration gas than your peers? Are your sensors failing early? Experts on hand can monitor these trends and give you a call when they see something unusual.
Subscription services are common in our personal lives, so now it's time to start using them to save lives at work. Having the right gas detectors—and keeping them working properly—is the first step.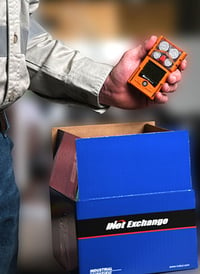 Since 2002, Industrial Scientific has offered iNet Exchange, a subscription service that covers gas detectors, shipping, calibration gas, docking stations, training, data analytics, and more. With iNet Exchange, you always have the monitors you need, right when you need them.
Every time you dock your monitors, we review the performance of the monitor, sensors, the circuit board, the microprocessors, and the pump. You can schedule bump tests, calibrate your monitors and access your report history and certificates anytime you need. We'll even tell you whether a monitor needs to be replaced before it fails and we'll automatically send you a new one. Before you know it, an iNet Exchange box is on your doorstep with a new unit, so you can spend more time managing your safety program and less time repairing gas detectors or ordering replacements.
Want to learn more? Get in touch with us for a free consultation.