A lone worker is any person who travels to remote worksites or works both out of sight and earshot of their peers within a facility. While lone workers are needed in a variety of industries, what unites them is the fact that they face workplace dangers alone and cannot rely on the help of others if an incident occurs.
This can pose serious risk to your workers' health and wellbeing ̶ as dangerous weather conditions, medical emergencies, falls, and gas hazards could all become the difference between life and death when help might be delayed by hours or even days.
As a safety professional, it's your responsibility to protect your lone workers until the job is done and they're safe and sound at home. Keep reading to learn how you can save lives by setting up a monitoring system that gives around-the-clock insights on the safety of your workers.
The Risks of Working Alone
Jim is a field worker who must travel to a remote area to do emergency repairs. During the repairs, he encounters a hazardous gas and is forced to evacuate suddenly. While trying to escape, he suffers a severe knee injury and finds himself unable to get out of harm's way quickly enough.
Unfortunately, stories like this are the reality for too many lone workers.
Miles away from his facility, the danger of Jim's situation is increased beyond a typical on-site worker's. How can you ensure that your workers will receive the appropriate emergency response they need as quickly as possible?
Using Data to Your Advantage
Without data management software, the readings from your team's gas monitors are almost impossible to interpret ̶ especially in the case of an urgent incident like Jim's exposure and injury. It's crucial to have a system that automates this task so you don't find yourself manually sifting through thousands of details to get up to date with your team's status.
Thankfully for Jim and his team, his safety department considered these risks when developing its gas detection program and equipment fleet. Before Jim headed to work that day, he assigned his Ventis Pro5 multi-gas monitor to himself using an iAssign tag, ensuring that readings from his detector would be associated with his name and simplify data collection for his manager. Combined with the GPS in Jim's device, his location and status were easily visible throughout the day.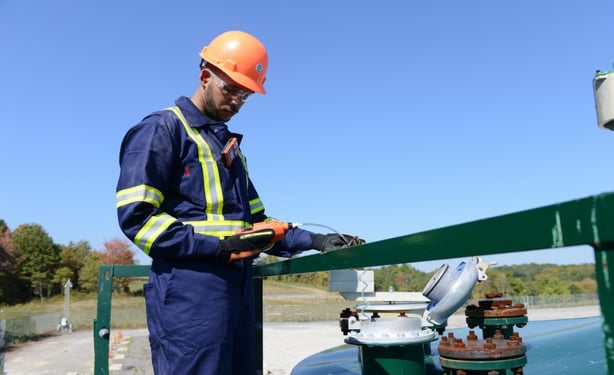 Lone Worker Safety from Anywhere
The Occupational Safety and Health Administration (OSHA) requires that companies with lone workers must account for their employees at "regular intervals" throughout their shift. For some companies, this might look like a phone call every hour. And while this manual check-in is a step in the right direction, it can't account for the dangers that can occur in a single moment.
Not only that, but manual check-ins interrupt work and reduce efficiency. The best way to overcome these challenges is by using live monitoring software like iNet Now to know whether your worker is in danger throughout the duration of their shift and receive real-time alerts through email and text.
Because his gas monitor automatically shares his status wirelessly, Jim's coworkers also received alerts when he left the cell coverage area and entered into an area with spotty coverage.
With an TGX Gateway installed in Jim's work truck, his gas detector continuously relayed critical information about his status by switching from cell to satellite coverage automatically, without ever needing to swap devices.
As Jim conducted work at the site, his location and status were updated in real time, so his peers and manager knew in an instant when he encountered carbon monoxide (CO) gas at a dangerous level. There was an immediate alert with the most critical information: Jim had a high alarm at tank five and that he pressed the panic alarm soon after.
Effective Emergency Response
Because the company partnered with Industrial Scientific for lone worker solutions, they were able to dispatch help to Jim's exact location in the moment and escalate the response based on real-time information from the field.
This allowed the company to efficiently respond to the incident, without having to spend time gathering critical information.
In the end, Jim was able to receive the help he needed in time, and his company had peace of mind knowing that they are prepared to respond when disaster strikes. With a connected safety program, the team received the information they needed like location, readings, alerts, and actions from their gas detector fleet instantly.
Contact us to learn more about how you can protect your lone workers.