Many industrial hygienists and safety leaders are finding themselves in a new role thanks to the spread of COVID-19: pandemic response coordinator.
It's a role few expected to inherit, and even fewer have been trained for. But it's also one that you can avoid if you take proactive steps now.
Just like in sports, the best offense is a good defense. It's important to take a proactive approach to physical distancing on your site. For some workplaces, it's enough to remind workers to stay at least six feet away from others. On other sites, though, the nature of the job means it may be harder to stay distant from others. In those cases, you need backup.
You can proactively approach physical distancing with the geofencing capabilities available with some live monitoring programs. Geofencing allows you to create a custom map of work zones on your site and assign safe capacity limits – and actually track whether your workers follow them. If too many workers enter a defined work zone, you receive an instant alert that the area is over capacity. You can then work with your team to stagger work patterns and reduce the activity in the space. Implementing proactive measures like this can help reduce the spread of COVID-19 on your site and keep you in compliance with state and local guidelines.
In the unfortunate event that one of your workers has a confirmed or suspected case of COVID-19, contact tracing becomes your next best tool. Contact tracing, or identifying where a person has been and who they have contacted, must be conducted swiftly and thoroughly to be effective. If one of your workers develops symptoms, you must be able to quickly create a report that shows who that worker may have contacted throughout the day and notify them. Some states even require you notify these workers within 24 hours or face fines up to $124,000.
Quite frankly, without a report like this, your workers and company are at risk.
Several companies offer their own version of contact tracing reports, but they're not all created equal. Some connected equipment providers and app developers claim to automate contact tracing, which sounds like a home run in these uncertain times. However, it's important to remember that these reports are often less complete than they appear – often requiring paper and pencil reports as a backup.
Automated contact tracing programs generally use location data from wearable connected devices to generate the reports. This approach has two major downfalls. Such reports are only useful and accurate if ALL workers and staff on your site wear these devices. This includes office staff and all visitors, making it a cost-prohibitive and frankly undesirable undertaking. Aside from that, some connected devices only provide a periodic snapshot of worker activity, typically uploading data every five to fifteen minutes. This leaves plenty of room for undocumented close contact as workers move throughout your site, passing others as they go.
If someone on your site tests positive, you would then need to build on this incomplete automated procedure with an old-fashioned paper and pencil report to determine who workers contacted throughout their shift and what areas of your site you need to sanitize. When used together, these two approaches create a contact tracing process that is both unreliable and time-intensive.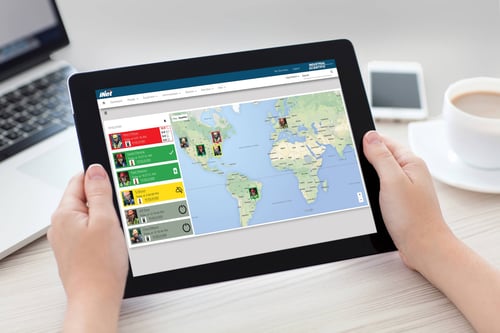 Instead of that approach, consider a simple, intuitive app-based report. Intelex Exposure Tracker prompts workers who may be contagious to log their activity in an app, so you can see where they have been and who they've worked with.
The app then allows you to quickly trace exposures at your site and trigger follow up actions, so you can respond to each case consistently and thoroughly. With an accurate record of potential and confirmed exposures across your site, you can confidently pinpoint and isolate anyone who may have been exposed. You can even customize a simple workflow to alert these workers to get tested and self-isolate to reduce the risk of exposure and control the impact to employees, your business, and any additional contractors on site.
With a contact tracing or exposure tracking report like this, it's easy to understand potential risk patterns at your company, which is critical to business continuity and the longer-term health and safety of your workforce.